On 17th May 2019 the Friends of Thandolwethu organised an opportunity of dialogue with the Reggio Emilia Inspired approach to early years learning as we all together thought with this question: 'What is a Reggio Emilia and De-colonizing Inspired Approach to Early Learning and how appropriate is it in the context of Cape Town?'
Parents, teachers, atelieristas, ECD staff, academics, volunteers and students got together to discuss Reggio Emilia and decolonised approaches to Early Learning Education.
The a-mazin' artist Andy Mason (AKA N.D. Mazin) took part to this seminar and captured the conversations in those incredible posters!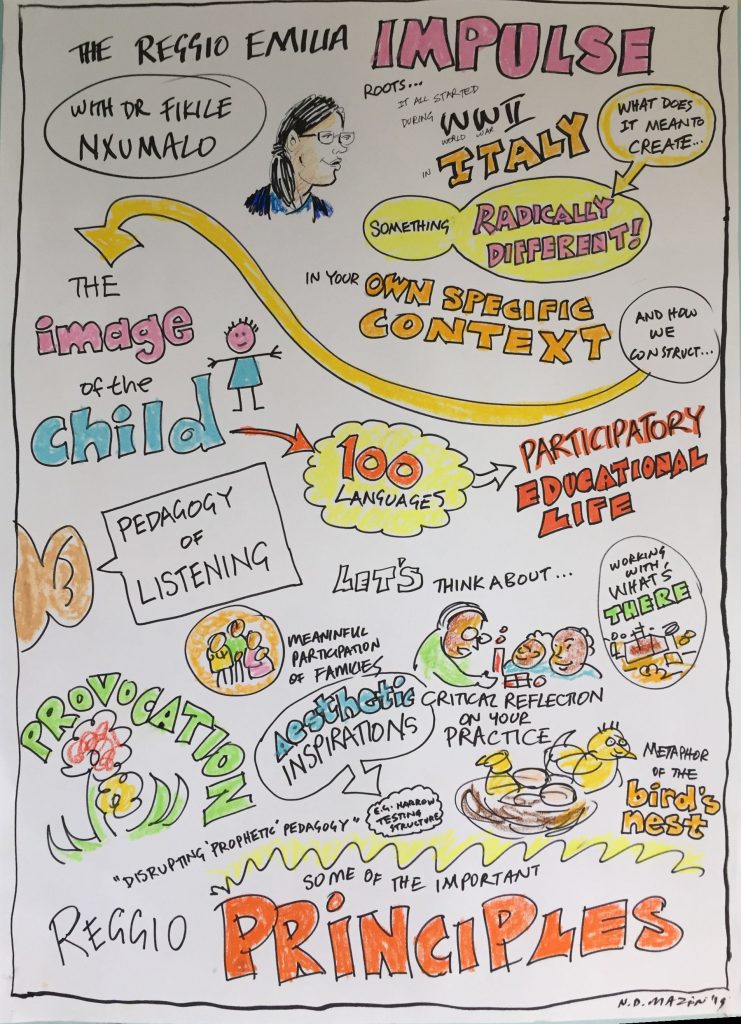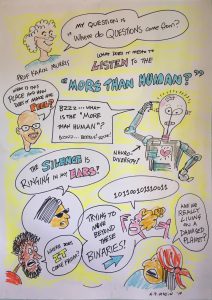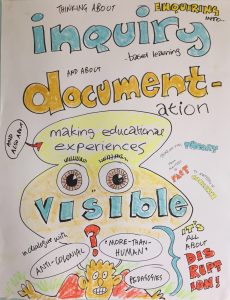 Biographical notes:
N.D. Mazin is a writer, editor, cartoonist, publisher and communications professional with a Masters degree in cultural and media studies and more than 30 years' experience in South African communications, publishing and campaign work, with a strong emphasis on visual narrative strategies for public education, mainly in the development sector.
As co-founder and Creative Director of Artworks Communications (Durban, 1989-2008) and co-founder and Head of the Comic Art Unit of the Centre for Comic, Illustrative and Book Arts (CCIBA) at Stellenbosch University (2009-2015), he has contributed extensively to the development of visual narrative, particularly comic art, as a vehicle for public participation in South Africa.
His numerous publications include academic research papers, educational comics, underground comix, illustrated training manuals, anthologies of political cartooning and graphic literature, and a major historical study of South African comic art. He has organised a number of group exhibitions, colloquia, workshops and public events to promote comic art in South Africa and has participated in a number of international conferences and events. He is particularly interested in problems of race and representation in satirical art and has published internationally on this subject.
In 2008 he retired from the agency business to become a penniless author in search of "The Artist's Life" and with his wife Catherine, relocated to Muizenberg, Cape Town. In 2009 he co-founded the Centre for Comic, Illustrative and Book Arts (CCIBA) at Stellenbosch University and has been involved in a number of cartooning initiatives, exhibitions and publications since then.
He has been self-publishing underground comix since the mid-1970s. His self-published anthologies of local comics include PAX: Pre-Azanian Comix 1-6 (Durban Cartoon Project, 1985-7) and Mamba Comix 1-5 (Artworks Communications, 2003-2007) and his anthologies of political cartooning, Don't Joke! (2009) and Just for Kicks! (2010) both co-edited with John Curtis and published by Jacana Media, were the first collections to demonstrate and promote the expanded range of political cartooning in the new South Africa (leading to the establishment by John Curtis of the Africartoons.com website).
As an academic writer Andy has produced a number of journal articles on aspects of South African cartooning and comic art, several of which have been included in international anthologies. His critical history of South African comic art, What's So Funny? Under the Skin of South African Cartooning (Double Storey Books, Cape Town, 2010) is regarded as the most authoritative work on the subject.
As an artist, he eventually self-published the graphic novel, The Legend of Blue Mamba, in 2013. It is the first book in a trilogy of collected comix.
As a curator, Andy has co-curated a number of comic art exhibitions and events, including Co/Mix: Comic Art/Mixed Media (National Arts Festival, Grahamstown, 2011), Co/Mix @ Open Book Literary Festival (Cape Town 2012), and the Open Book Comics Festival (Cape Town, 2013). In 2013 he launched the GrafLit project, a CCIBA project in association with the Youngblood Art Foundation and Mamba Media, assisted by Su Opperman, Roberto Millan, Jean de Wet and Keda Gomes.
This intervention has resulted in the publication of two editions of the GrafLit anthology of contemporary South African comic art combined with group exhibitions (Youngblood Gallery, Cape Town, 2013-14) showcasing a new generation of artists working at the interface of cartooning and fine art. More recently Andy and Su Opperman co-curated two group exhibitions, Graphic Radicals at the Cutting Edge of Comic Art at the Alive Café in Muizenberg (2014) and Speechless: South African Comic Artists on the State of the Nation at the Erdmann Contemporary Gallery, Cape Town (2015).
Andy currently runs a virtual studio in Cape Town, the Azania Mania Art Kolektiv (AMAK), which provides opportunities for talented young artists and designers to provide specialist services to clients in the civil society, public and private sectors. Since 2012, he has also provided a graphic documentation ('naked cartooning') service for conferences, workshops and scenario exercises, and in 2015 opened a weekly comics pop-up gallery shop at the Bluebird Garage community market in Muizenberg.
Find out more about N/D. Mazin here.
Documenting our 17th May seminar